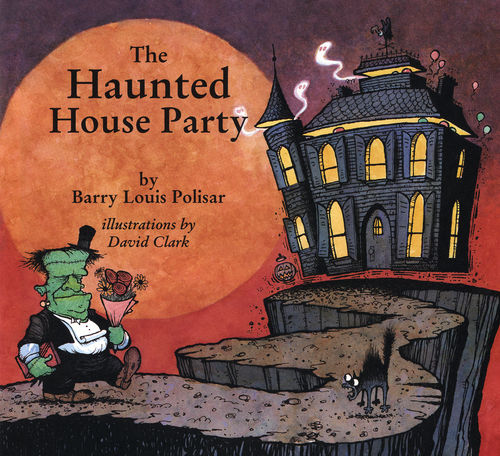 by Barry Louis Polisar
illustrated by David Clark
$14.95, 32 p. color illustrated.
ISBN# 0-938663-21-6
"Good Halloween fun and a nice addition to poetry collections. The pictures are full of scary ghosts and creepy crawlies and careful examination reveals humorous details."
– School Library Journal
"Polisar is a clever subversive who sweeps us up in the fun…anybody who's that incorrigible is going to be cherished by a lot of kids."
– The Green Bay Press Gazette, Green Bay, Wisconsin
"An extraordinary Halloween book. Very clever. Children will be delghted."
– The Kokomo Tribune, Kokomo, Indiana
"A bewitchingly funny story."
– The La Crosse Tribune, La Crosse, Wisconsin
Join Barry Louis Polisar's host of ghosts, ghouls and goblins as the house shakes, the candlesticks fly, the TV pirouettes and a few ghosts take off their sheets…it's the liveliest Halloween party ever–until things get out of hand in this spell-binding but good-natured tale told in verse.
On Halloween night, a child's party is visited by real ghosts and goblins. The problem is–everyone is in a mask and costume and no one knows who the real creatures are–until some of the real ghosts and goblins begin to show off for each other. The host and his friends learn, in a highly original way, how to deal with negative, destructive behavior and to take responsibility for their situation.
But is Barry's book really a Halloween story? Barry was married on Halloween, 1981 and claims he based this book on his wedding night party, disguising his family members as characters in this story. Wicked fun!
Listen to Barry Read This Story