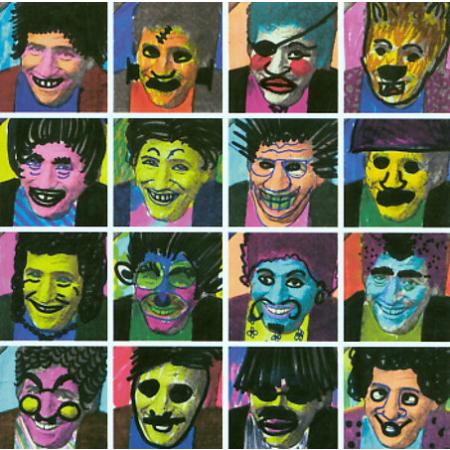 Barry Louis Polisar
$14.95, CD
ISBN 0938663-43-7
"Barry Louis Polisar marches to a decidedly different drummer, and will have kids marching right along with him. The songs on this recording are funny, irreverent, and simply delightful."
– School Library Journal
"Children of all ages should listen to his witty, intelligent tunes….the best record you've sung along to since second grade."
– The Des Moines Register, Gannett News Wire Syndication
"Barry Louis Polisar sings sly comic songs with a lot of kid-canny anarchy; the foundation for each song, however, is keenly observed truth. A Parents' Choice Silver Award Winner."
– Lynne Heffley, Parents' Choice Review
"Sly lyrics performed with the force of a shooting rubber band. The electric, eccentric Polisar bangs out this edgy classic on everything but the kitchen sink, and provides a delightfully warped, wickedly funny outlook on slugs, potty training, perfect children, and asparagus."
– Parenting Magazine
"Polisar's witty, irreverent folk-pop tunes tromp around with impunity where few kid's artists dare to venture."
– Family Fun Magazine
"One of a dozen or so reasons to love Barry Louis Polisar's A Little Different is its ability to entertain unflaggingly and at full throttle on two levels. Each of this album's 17 tracks is genuinely funny. Polisar may be "A Little Different," but that's what makes him–and this album– wonderful."
– Tammy La Gorce, Amazon.com Review
Barry Louis Polisar's songs for children have always been a little different than most. His lyrics are wry, sly and witty and this album is the most musically textured he has produced.
Seventeen songs are featured here including a bluesy I'm a Slug, the 1999 winner of the "Children's Music Award for best song" and a joyful song about Potty Training, sung to the tune of Waltzing Matilda.
But listen carefully; the album is a pun and fun filled adventure with musical homages to everyone from Neil Young, Jimi Hendrix and Guy Clark to the First Nations a cappella trio Ulali. The Homemade Band song features Barry playing every instrument–except the instruments are common everyday kitchen utensils. And let's not forget about the cover art–creatively designed by Barry's eleven-year old daughter!
"Barry Louis Polisar marches to a decidedly different drummer, and will have kids marching right along with him. The songs on this recording are funny, irreverent, and simply delightful. For those who are already fans, this is a must. For newcomers to Polisar's music, this is a fine introduction. Parents and teachers beware–children will be singing these waggish tunes, and asking for them again and again. Opening with the bluesy, "I'm a Slug," in which slugs munch up the garden, you know you are in for a goofy ride. Kids will break out the pots and pans after hearing Polisar's "Homemade Band," which includes spoons, pipes, and flushing toilets among other instruments. There are songs about donuts, dogs, an ode to asparagus, and good story-songs including one about bad guys who broke into the car. Polisar brings out the child in his music, which is sheer fun with a bit of feel-good philosophy thrown in for good measure. Playing with his voice and with an assortment of traditional–and not so traditional instruments, Polisar has created a uniquely droll sound. With mandolin, electric and acoustic guitar, and plenty of bass, this recording is tunefully more sophisticated than some of his earlier works."
– School Library Journal
"Forget Raffi. Barry Louis Polisar writes children's songs, but based on his magical "A Little Different", children of all ages should listen to his witty, intelligent tunes. Polisar is the cheery Bob Dylan-meets-Frank Zappa of the elementary school set. "A Little Different" begins with a song from a slug's perspective, then "Homemade Band" – in the spirit of "Stomp" – makes music of a flushing toilet and household percussion. "It All Comes Back to Me" celebrates the interconnectedness of nature. "I Still Don't Like Asparagus" sails on a shimmering melody. Polisar's songs mine a common ground between adolescence and maturity where parties from both camps can relate and learn. Add folkish music that would sound mature no matter the lyric content, and "A Little Different" will be the best record you've sung along to since second grade."
– The Des Moines Register, Gannett News Wire Syndication

"Sly lyrics in the style of classic rock musicians like Jimi Hendrix and Neil Young are performed with the force of a shooting rubber band. The electric, eccentric Polisar bangs out this edgy classic on everything but the kitchen sink, and provides a delightfully warped, wickedly funny outlook on slugs, potty training, perfect children, and asparagus."
– Parenting Magazine

"The bad boy of kid's music is back–and that's very, very good. It's the first album of new songs in ten years for Polisar, whose witty, irreverent folk-pop tunes tromp around with impunity where few kid's artists dare to venture. A Little Different is festooned with vintage Polisar fare like "I Don't Brush My Teeth," "Potty Training," and "Marvin Doesn't Like the New Baby" (surprise–Marvin is not the older brother, but the family cat). But to reduce Polisar to a purveyor of kid-pleasing gross-out ditties is to ignore his considerable artistry as a satirist and humorist with plenty of adult appeal. Take, for instance, the laugh-out-loud "I'd Be Me," the most refreshing self esteem song these ears have ever heard. It subverts the whole idea of the self esteem song (often painfully saccharine) while still getting the basic idea across. Welcome Back, Barry."
– Family Fun Magazine

"One of a dozen or so reasons to love Barry Louis Polisar's A Little Different is its ability to entertain unflaggingly and at full throttle on two levels. Polisar not only jointly captivates parent/child combos with scandalous songs such as "I Don't Brush My Teeth and I Never Comb My Hair"–in which the protagonist confesses that "The teacher never calls on me/I'm almost sure she'll faint/She says my grammar's good enough/But I'm almost sure it ain't"–he also cleverly draws every last listener in with inclusive lyrics such as "Who got a boo-boo/You got a boo-boo/I got a boo-boo, too." Accessibility aside, though, Polisar proves on this album that, despite a 10-year lapse between albums, he's firmly in command of his customary hilarity. To wit, there's "These Are Not My Children" ("My kids don't drop cookie crumbs/When they eat a snack/My kids wear clean underwear/My kids don't talk back"), "I Still Don't Like Asparagus" ("I still don't," he helpfully points out in the liner notes), and "Bad Guys Broke into Our Car," a true-life tale of a bizarre burglary. But that's playing favorites. Each of this album's 17 tracks is genuinely funny, and as if that weren't enough, its music–especially Ray Tilkens's guitar work, though Polisar's toilet flushes and horse hooves are also memorable–is outstanding. Polisar may be "A Little Different," but that's what makes him and, by extension, this album wonderful, and worthy of a much wider audience than what they've found so far."
– Tammy La Gorce, Amazon.com Review

"Barry Louis Polisar sings sly comic songs with uninhibited bluesy, rock 'n roll gusto, and a lot of kid-canny anarchy: "I'm a Slug," "I Still Don't Like Asparagus," "Marvin Doesn't Like the New Baby," "Wet Again." Even serious subjects are given a dynamic, upbeat treatment; the foundation for each song, however, no matter how wacky, is keenly observed truth. A Parents' Choice Silver Award Winner."
– Lynne Heffley, Parents' Choice Review