Telling The Story Review Page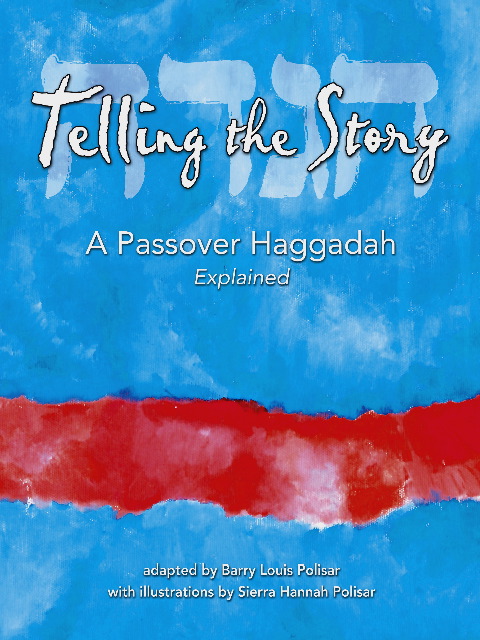 "Award-winning children's author Barry Louis Polisar distills the Seder into easy-to-follow steps and gives historical background so we can understand why we do what we do each year and help reconnect with the original spiritual reasons that gave birth to our traditions."
– Hadassah Magazine
"Polisar's name may be familiar to readers; he is the author of Don't Do That, Peculiar Zoo, The Haunted House Party, and other books beloved by generations of children. His retelling of the Passover story for use as a Haggadah, however, is not aimed narrowly at children. Polisar's narrative is clear and simple without being in any way patronizing to the broad age range likely to read or hear this Haggadah; the illustrations, supplied by Polisar's daughter, are vivid and exciting without distracting needlessly from the story being told. Reccomended for most collections."
– Library Journal
"Award-winning children's author Barry Louis Polisar is known for writing hilariously anarchic books and songs for children. With 'Telling The Story–A Passover Haggadah Explained' however, he plays it straight. He turns his talents to creating a basic Haggadah that will help reconnect families with the spiritual reasons behind the practices. He does a superb job at presenting the Seder's concepts behnd the practices in a clear and meaningful way, while still keeping his Haggadah relatively brief. Attractive and nicely designed, "Telling The Story' features sensitive illustrations by Polisar's daughter. "
– Jewish Woman Magazine
"An illustrated Haggadah for the family, Polisar's 'Telling The Story' seeks to re-imbue Passover rituals with relevency to people's lives. The beautiful paintings, created by his daughter, are mostly portraits done in rich, warm colors, full of feeling and with a flowing quality, mirroring the depth and movement of the seder."
– The Jewish Advocate, Boston, Massachusetts
"Explains each step in the Seder in simple language to provide a deeper understanding of the spiritual reason behind each practice and the origins of the Passover traditions….Simple enough for older children to read and understand, it even comes with pre-stained wine drops on the pages about the ten plagues!"
– Rockland New Jersey Jewish Media Group's Top Choices
"Creatively illustrated in full color by the author's daughter, "Telling The Story" is a new retelling of the Passover story for use as a Haggadah for families. Polisar's narrative is clear and simple in a way that is accessible to everyone."
– New Mexico Jewish Link
"Authentic and simple, this retelling of the Passover story in the Haggadah is designed to guide Passover participants through the Seder while educating them about the practice. Detailing the meaning of the ceremony in the past and present, the book also discusses the authenticity of the ceremony and the story, allowing those with little or no experience conducting a Seder to do so with confidence. A phonetic version of the Hebrew text is also included to aid those unfamiliar with Hebrew pronunciation."
– Judaism.com
"Passover is synonymous with awe-inspiring miracles, horrific plagues and, of course, the infamous fifth question: When do we eat? How can the centerpiece of the holiday, the seder, be transformed into an experience that is meaningful to almost anyone, instead of a boring and seemingly interminable impediment to dinner? Polisar's Haggadah, 'Telling the Story: A Passover Haggadah Explained,' draws on Haggadot from many denominations, features straightforward explanations and illustrations, ample but concise Exodus narrative, and a smattering of Hebrew accompanied by translations and transliterations. 'I emphasize the Torah commandment to 're-tell the story' every year,' Polisar explained. 'The actual re-telling of the story sometimes gets obscured by later customs and writings. I think that becoming aware of the origins of the Passover rituals – and how those rituals have evolved over time – can enrich the meaning of the holiday for people.'"
– Washington Jewish Week, Washington, DC
"A Haggadah that tells about the holiday rituals in simple terms and presents the prayers in English and Hebrew with phonetic pronunciations. "
– Detroit Jewish News, Detroit, Michigan
"Without abridging the elements of the Seder or diluting it's message, 'Telling The Story' by Barry Louis Polisar is truly a Haggadah a family can enjoy for many years. With vivid illustrations by Polisar's daughter, Sierra Hannah Polisar, it provides clear explanations of the rituals of the Seder."
– The Jewish Standard, Teaneck, New Jersey
"Beautifully done! A lot of families will be grateful for making the Seder experience more accessible."
– Rabbi David Shneyer, AmKolel
"Your Hagaddah is a treasure. It is an enormous gift you have given to the community to make the pdf version available online."
– Robin Selinger, TotShabbat.com
"Your Haggadah is lovely. Interesting how you used many different translations of Baruch Atah–from traditional "Lord" and "King" language, to non-gendered language…great art too!"
– Rabbi Debby Hachen, Temple Beth El
"You have done some beautiful work here. I think the color illustrations add a lot to the text."
– Rabbi Nathan Martin, UM Hillel
"I bought copies of "Telling The Story" from Borders last week and I found this to be a very clear and easily understandable retelling."
– Temple Israel Center Library, White Plains, NY
"A family-friendly Haggadah with illustrations by Polisar's daughter…and a labor of love."
– The Jewish Week, New York, New York
"A compact retelling of the Passover story…great for the family with young kids."
– Jewish Transcript News, The Voice of Washington State, Seattle, Washington
"Retells the story of the exodus from Egypt, incorporating traditional elements along with a spiritual component."
– The Baltimore Jewish Time, Baltimore, Maryland
"Artfully illustrated by Polisar's daughter, this haggadah aims to be accessible. It includes phonetic pronunciations of the prayers and simple explanations of each of the seder's steps."
– Wisconsin Jewish Journal, Milwaukee, Wisconsin
"We have been doing the Seder at our home for 47 years. Over the years, the people around our table have changed. Today, most of our guests know little or no Hebrew. A lot of them are not Jewish, and we now have more children at our table. I have been searching for a Haggadah that would better help our guests to understand the meaning of Passover in today's world. Thank you for writing this Haggadah and for letting us use it without a big financial commitment."
– Leslie F.
"Touching, contemporary and masterfully created. The artwork adds just the right artistic touch."
– Rabbi Abie Ingber, Cinncinatti, Ohio
"It is hard to get 31 people to agree on anything, but tonight, we were unanimous. Thank you for sharing your wonderful Hagaddah with us."
– Marc C.
"Your Haggadah was wonderful and everyone around our table loved it. Straight to the point and clear without sacrificing "tradition", it was the first time that "doing" the Seder came so naturally. You have certainly done the world a great service with this publication."
– Susan V, Strasburg, France
"My wife and I are from traditional backgrounds and our children are steeped in the generational ways of the seder. Yes, longing for it to be over so that they could eat. This year was different. I introduced your Haggadah, having read it carefully during the day. Previously uninvolving, archaic passages suddenly became something that each person could identify with and understand. I have kept your book and I will use it again next year. "
– Tony A, Cheshire, UK