Juno Ten Year Anniversary
Photos from the live script reading of the film Juno, marking the 10 year anniversary of the film's release. The event featured an all female cast as well as singers Barry Louis Polisar and Kimya Dawson. Film director Jason Reitman flew Barry to Los Angeles to sing his song at the Live Read in downtown Los Angeles, April, 2017.
This event was held at the renovated United Artists Theater.
Jason Reitman scheduled Barry as a surprise guest to open this event. This historic theatre in downtown L.A. has been completely restored.
Barry began the program with a live rendition of his song All I Want is You, to a packed house, followed by Ellen Page, Jennifer Garner and an all-star female cast reading Diablo Cody's Academy-Award winning script.
An amazing and beautiful theatre!
Barry started the night off by singing the unofficial movie theme song All I Want is You to a full house in downtown Los Angeles.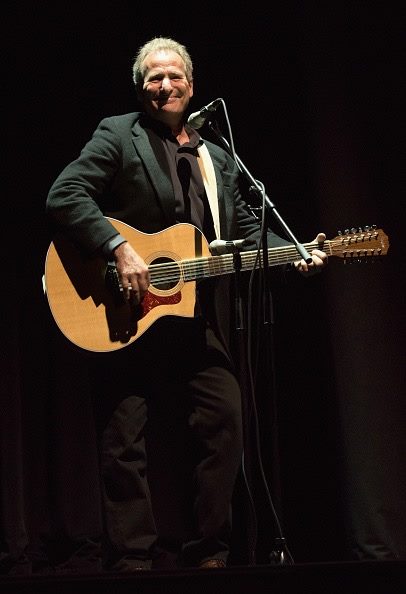 Barry recalls the event: "The house lights went down and Jason had me come out on stage to a totally darkened theater. I began singing the opening lines of the song acapella and the audience applauded, realizing the show was starting. As I strummed the first few guitar chords on Jason's 12-string guitar, the lights came up, revealing me standing alone on stage. The audience realized this was not a recording they were hearing, but me singing and playing live on stage and welcomed me with another round of applause. I've been performing on stage for over four decades and I never feel nervous. But that night, I could feel my heart pounding with every beat. It was a great way to start the program at such a beautifully restored United Artists Theater."
Some know the story of how Jason Reitman discovered Barry's song; he was searching iTunes for another song with a similar sounding title when he stumbled onto Barry's old song by "accident" and asked to use it in his movie.
Barry continues: "I didn't realize my song would be featured so prominently in the opening credits of the movie until I saw the film in the theatre with my family. I almost didn't even record this song back in 1977; I only put it on my second album as filler because I didn't think I had enough songs on that album. From the time I recorded the song in 1977 to when the movie came out, I never performed the song–and never had anyone ever ask me to sing it.
But there is a back story to this back story. When I contacted Derek Sivers, the owner of CDbaby about carrying my music, he told me that before he formed his music distribution company, he used to sing my songs every day when he worked at a circus. Derek said he felt like he owed me 3 years of performance royalties and because of that, he said he'd like to distribute all my albums–including the old albums I was going to let go out of print. Because of that, even my old albums ended up on iTunes and that was how Jason Reitman discovered my 30 year old song, All I Want is You. There is a lesson in all that."
Jason Reitman, the film director, had Barry come out on stage to a totally darkened theater after the house lights went down. It was such a perfect reveal to have Barry sing the opening lines acapella and have everyone think it was the song from the soundtrack signaling the show was about to begin–and then have the lights come on to reveal him standing alone on the stage with a spotlight and the realization that this was "live" and not a recording! This is Barry's photo of the darkened theater during sound check with the screen lit up with an image from the film–just before the doors opened.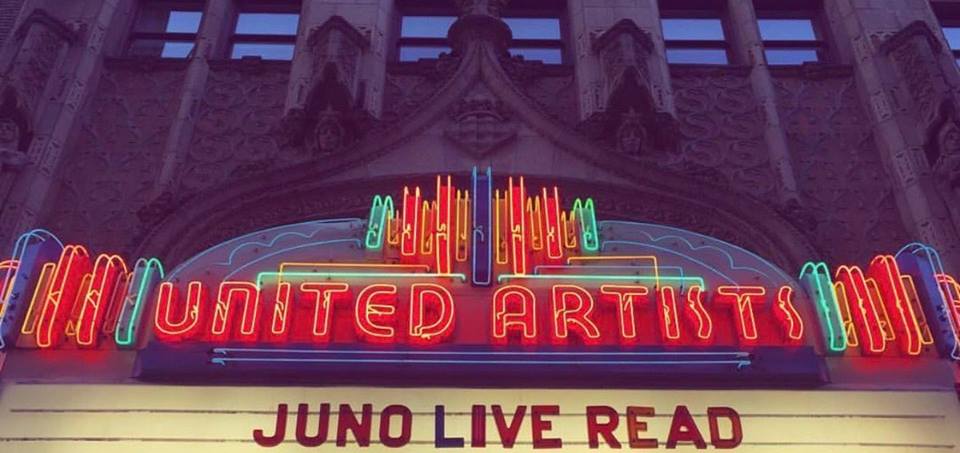 The marquee outside the historic United Artists Theatre in downtown Los Angeles, April 8th, 2017.
Script writer Diablo Cody also attended. She wrote the Academy Award winning script for the film Juno.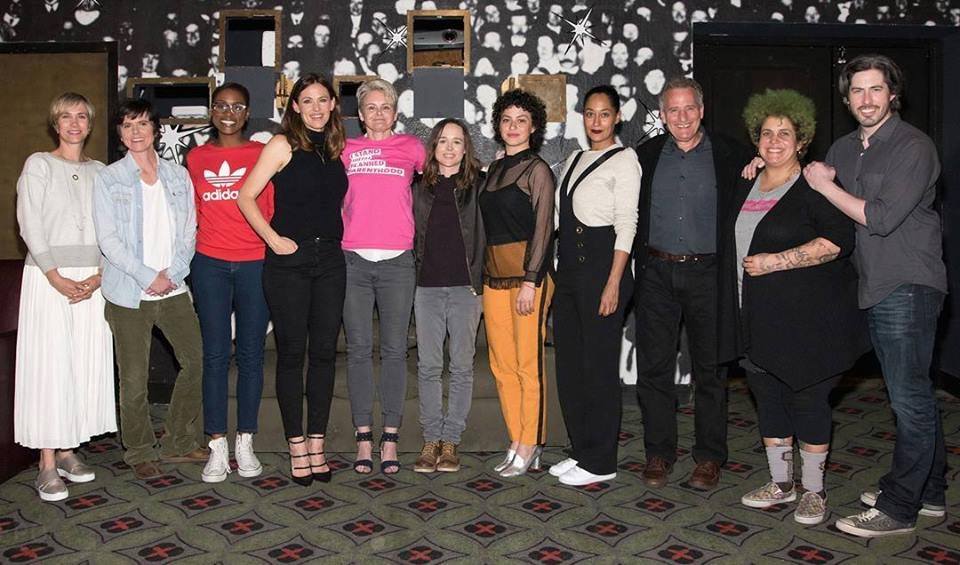 A group photo before the event featuring an all female cast reading the Juno film script, plus singers Barry Louis Polisar and Kimya Dawson and film director Jason Reitman. Featured from left to right are Actresses Kristen Wiig, Tig Notaro, Issa Rae and Jennifer Garner, President and CEO of Planned Parenthood Sue Dunlap, actresses Ellen Page, Alia Shawkatat and Tracee Ellis Ross, singer Barry Louis Polisar, singer Kimya Dawson, and director Jason Reitman.
This is the last scene of the production. Kimya Dawson came on stage and strummed her guitar while Ellen Page and Alia Shawkat sang the last song in this all female casting of the script reading.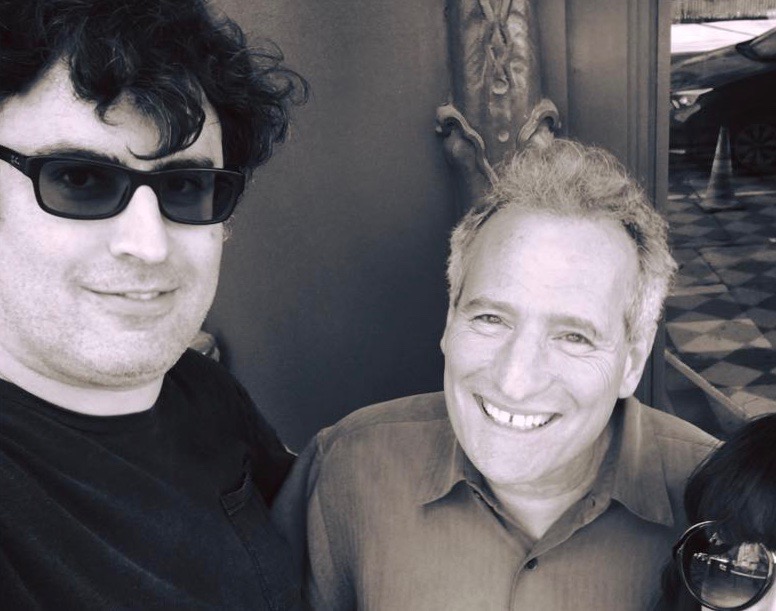 While in L.A. Barry also got to connect with Aaron Cohen and Robin. Aaron had Barry's albums as a child, and now fronts the band The Radioactive Chicken Heads. He produced The We're Not Kidding! Tribute album of Barry's songs featuring over one hundred artists and musicians from around the world singing Barry's songs.
Later, Aaron and Robin put on their costumes and goofed around for a photo out in the parking lot!
An extra treat to be able to meet and spend some time with Jorge Xolalpa when Barry was in L.A. for the JUNO script read. Jorge shot his first independent film, starring Summera Howell and Leo Ramsey, on an iPhone 6 and asked Barry if he could use one of his songs in the opening credits. His film Blue Line Station is a real charmer.