"Delightful in its unorthodox approach, it includes several gems such as "Symphony in Why # Major" and "Don't Wake Up the Baby or The Baby Will Get You." Polisar has helped us view school-age memories; now he is helping us see the humor, the anguish and the joy of children's diaper years. The album is a listening delight."
School Library Journal
"Polisar sings his way through the joys and trials of parenthood. His music will strike an especially familiar and humorous chord."
Singout Magazine
"Hardly the everyday nursery rhyme Pablum or "namby-pamby" ditties for kids."
The Dayton Daily News
Dayton, Ohio
"His music is spreading like a kiddie rebellion all across the country...It's no wonder--Polisar is too good to be kept secret."
The Baltimore Sun
Baltimore, Maryland
"No need for alarm: Despite Barry Louis Polisar's wicked sense of humor, he doesn't attempt to joke about tossing tots skyward in rhythmic succession on this brilliant, thoroughly hilarious album. Instead, he kids around in a way that beleaguered new parents will marvel at. Whether it's diaper rash or the chronic, mind-numbing crying, Polisar earns tons of points for originality and uncensored wit. He's also a first-rate musician. This is a CD without a weak moment, and one that no new parent in possession of a sense of humor should be without."
Tammy La Gorce Reviews
Amazon.com
Download this CD or individual songs from iTunes here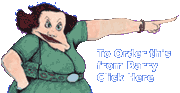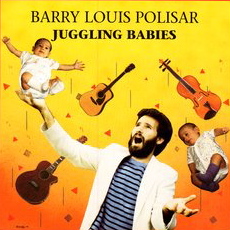 Juggling Babies
Barry Louis Polisar
$14.95, CD
ISBN 0938663-46-1
"A flat-out classic," writes The Washington Post. "You get the distinct feeling not only that Polisar knows whereof he speaks, but that becoming a father of twins has only sharpened his wits."
But don't get the wrong idea, though its great for babies and new parents, kids of any age will love the off-beat humor of Diaper Rash--sung as a monster song or the absurdly funny Turkeys in the Straw (Barry's first duet with his son, when Evan was three months old).
There are seventeen songs in this fresh and witty collection and they are among the most polished in Polisar's work; comic, serious, outrageously funny and heart-warming. This is the first recording Barry made after becoming a father and he chronicles the horrors of diaper rash, kids with colds, and inexhaustibly curious youngsters. Perfect for new parents and children with younger siblings, songs include, They'll Never Have a Baby As Nice As Me, and Symphony in Why Sharp Major--a musical extravaganza of "no's" and "why's" that reach an absurd crescendo. Warning! This recording contains language that may be offensive to some adults. Offensive words include "pooh-pooh," "doo-doo" and "pee-pee."


Click titles below to hear Barry's songs--or download individual songs or album from Amazon.com, CdBaby.com or
Listen to Barry's other albums: