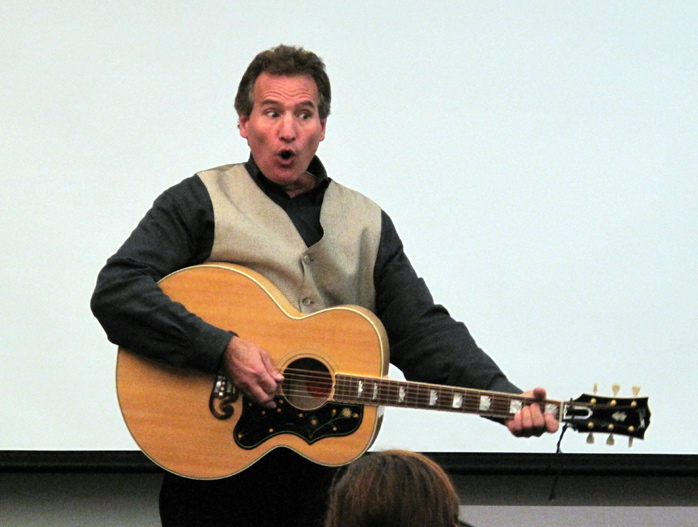 Comments and References
"I had Barry Louis Polisar visit our school and what a success! The kids and staff loved his performance and valuable insights! He was entertaining, funny, and so personable. He took the time to sign autographs and tour the school. He was very accommodating to our financial situation and worked with me and my budget. I was a superstar for months after his visit! Everyone was so impressed and appreciative after his time with us. I highly recommend him!"
Media Specialist, Hallandale, Florida
"I can't thank you enough for visiting our school and being so wonderful to our kids! They have been talking about the program for days. We can't keep your books on the shelves here in the Media Center. They loved it and they have been so inspired to write. Your performance was the perfect combination of education and entertainment. Everyone was engaged and learning! We simply loved it! Thanks also for being so flexible on the price of your visit; our students miss out on so much in their young lives because of finances. It's people like you that make a HUGE positive impact on their lives. We strive to help our students love learning and you really made that happen for them. I've told all the Media Specialist in our county about your wonderful program Thanks again for everything! I reallllllllly can't tell you how much we appreciated this!"
Childrens Media Specialist, Carroll County, Maryland
"Barry Louis Polisar is a rare find. His performances were not only superbly entertaining for children, but were also highly educational and inspiring. It brought children face to face with a living, breathing author who has an incredibly unique ability to relate to them, and to share directly on their level about his work and his passion for writing and language. Ultimately, it brought them to books, which is what it's all about. I think it's safe to say that Mr. Polisar's books and recordings won't be found resting on the shelves in our libraries for quite a while! I am thrilled to have had him here in our county and I am working to get him back to all the schools. "
Children's Librarian, Bartow, Florida
"It was very exciting for me to be able to witness the magic at Barry's presentations. Through his performances and workshops, he delivers a perfect balance of fun and learning, inspiring creativity and offering an up close and personal author presentation. His songs, stories and teaching are subtly interwoven so that the children come away thoroughly entertained (and that's an understatement!) but also with a real understanding of the writing process; where ideas come from, how and why the writer chooses to formulate and process certain ideas, and how he gets from idea to finished work. Mr. Polisar covers it all. His passion for his work is obvious and that lets the children know that there is real joy in writing - an important lesson that children often miss in the classroom setting. He also has the ability to adapt his programs to any age group and any size group. From large assemblies to small intimate groups. His workshop method teaches through question and answer sessions where he interacts on a personal level with the students, which they love. He also has a very fine-tuned ability to not only answer their questions, but to skillfully let their questions lead to all the information he wants to share about writing."
Children's Librarian, Polk County Library System, Florida
"I listened to your recording last night and I played it for my son and his two friends this morning. They sang it all the way to school and I used it for two creative writing groups in his classroom. Kids were sneaking back at lunchtime to hear it."
Teacher, Denver, Colorado
"Barry Louis Polisar is a fantastic poet, musician and a great advocate for kids! I was really impressed with his performance at our elementary school this past week and logged on to buy a few of his CD's for my fifth grade classroom. The students just absolutely loved his performance! Lots of energy, incredibly zany lyrics and a good message about accepting differences seems to be his theme. Hilarious and irreverent, adults and kids loved his program. He had us in stitches the whole hour. Mr. Polisar sang serveral of his songs, recited a few of his poems and talked about what it means to be a writer. He answered numerous questions that the students had about being a writer. A very patient man with a lot of talent that he shares freely, he told the students about being a parent and touring the country talking to school children. What he had to say about writing made a lot of sense to them. He has several great books out. My students cracked up so hard and loved hearing the books. As a teacher, I recommend Polisar highly to children and families with a sense of humor. Children love his poems and songs. His performance was unique and a complete blast. Most of all, kids seem to love to laugh and have a good time with his books, poetry and songs. I have never seen them laugh so hard! Highly recommended, the laughter is nonstop and contagious! "
Teacher, Palm Coast, Florida
"My students have been talking about little else besides your TV show and Barry Louis Polisar. The students wanted to check everything out and share them with their parents. We've had several great discussions and writing activities based on the topics in your songs; you have generated a lot of creative thinking."
Teacher, Lancaster, Pennsylvania
"I am having a meeting with all of the other media specialists in our district next week and I will tell them about your wonderful performance. The teachers and pupils in my school are still raving about you. You are truly a unique and talented performer. While other authors I have hired in the past were good, no one remembers them. Our children will certainly remember you.You were worth every cent."
Media Specialist, Passaic, New Jersey
"Thank you for coming to my school. I had the best time. I thought it was going to be another one of those boring people who just talk about their books but you were HILARIOUS ! I was laughing so hard my eyes went red. I am in the 5th grade. My brother is in 1st Grade and he was SO excited you were coming because his class read all your books before you came!
Student, New Market, Maryland