"Just when they're convinced that it's all about the laughs, Polisar stretches beyond, drawing the students into the writing process."
The Florida Sun Sentinel
Miami, Florida
"Whether its a book or a song, Polisar's work always has two meanings."
The Pharos Tribune
Logansport, Indiana"
"Bringing Barry Louis Polisar into the schools--and they've been doing it all around the country for years--is a stroke of genius. He's a wonderful take-off point, a place to tell children about language and shared anxieties and music and a thing called a sense of humor. Anybody who's ever taken their kids to a Polisar performance is struck by the joy in the room. The kids fill the place with laughter and shouts of recognition as their parents beam at the happiness on the kid's faces.
The Baltimore Sun
Baltimore, Maryland
Contact Barry
If you want to arrange an author visit, Barry will help guide you through the entire process.
References and Comments
Barry gets most of his bookings from teachers and librarians who have heard his presentation, so please read these.
Where has Barry performed? Locate schools and libraries all across the United States where Barry has visited.
Frequently asked questions
Who? What? Where? When?
Instructor Magazine
Read the article Barry wrote for instructor Magazine on using songs and stories in the classroom
We are bringing Barry to our school...Now what?
How to have a successful author visit.
Teacher Guide
How to relate Barry's books to the school curriculum: a one page link to classroom activities using Barry's books.
Teaching Web site literacy and search skills
How to use Barry's web site as a learning tool.
See how one school prepared for Barry's visit.
Free READ posters
Get one for your school or library.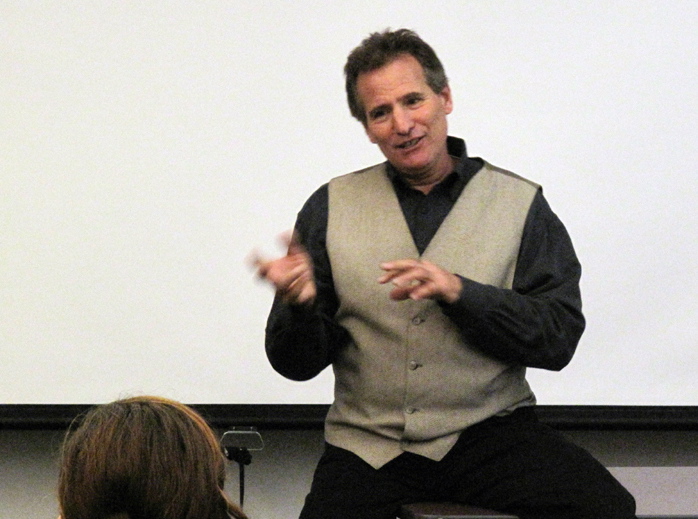 Maryland Gazette
December, 24, 2009

Barry Polisar had one simple question for a cafeteria full of Elementary students.


"Has anyone ever told you, don't put your finger up your nose?" the singer-songwriter and children's author asked.

Naturally, the children cracked up.

They laughed even harder as Polisar strummed his guitar and began singing the chorus to his song of the same name. Back in 1990, a county music teacher objected to the silly lyrics, saying they were inappropriate for school. Now, he performs in county schools more than just about anywhere else. "I think I've played just about every school here," the 55-year-old said. I've always had more shows here. I don't know why."

His visits last week to Quarterfield, Freetown and Marley elementary schools coincided with the release of a two-disc tribute to Polisar, recorded by artists from all over the world.

The collection features three different versions of "All I Want Is You," which was featured in the opening credits of the 2007 film Juno.

"I never had a song that everybody knew," the Montgomery County-based artist said. "Then suddenly, everyone knew that song. It was used in commercials as far away as Poland, England, Australia and New Zealand."

Polisar got his start playing children's songs in the mid-1970s. He began writing stories when he was just a child, but didn't plan to make a career out of song writing until a teacher friend of his asked him to come to her school and perform for students.

"I thought, oh no, I'd be too embarrassed," Polisar told fourth and fifth graders at Freetown Elementary Friday. "But I did it, and I had a great time."

That launched his singing career. He wrote "All I Want Is You" in 1977, a full 30 years before Juno director Jason Reitman discovered it.

"What happened is I had re-recorded all my songs on newer CDs, because my old albums went out of print," Polisar said. "Then iTunes got them, which was how Jason Reitman found them. He heard ("All I Want Is You") and fell in love with the song."

Polisar said the song is different from most of his other works.

"Most of what I do is very satiric, funny....this is a sweet song," he said.

He gave Reitman permission to use the song, but had no idea how or even if the song would make it into the movie. Then Juno came out, and he got a call from a friend who went to see it. "She said, 'It opens the movie! Did you know that?" Polisar said. "It was a real treat for me."

Suddenly, he was getting e-mails from fans across the world. Many of them had listened to his songs as children. One fan, indie rocker Aaron Cohen, asked if he could put together a tribute CD. Some are rock and roll, some are folk, some are bluegrass. "The idea was just to get my work out there," Polisar said.

Linda Humbert, past president of the county Reading Council, first saw Polisar perform when she was teaching in Germany in the early 1990s. She kept in touch with him over the years, and invited him to perform at a council meeting last year.

Having one of his songs picked for Juno was "huge," yet not necessarily surprising," Humbert said. "He has a lot of energy, he's entertaining for all age groups," Humbert said.

Polisar's down-to-earth, friendly demeanor, coupled with his repertoire of humorous songs, was a hit with Freetown Elementary students.

"I don't know why it is, but every time I mention the word underwear, people start to laugh," Polisar said as he began to sing his song "Underwear."

The children had plenty of questions for him. How does he come up with his songs and stories? Do his hands hurt from writing so much? Does he like his job?

"No, I do not," Polisar said. "I absolutely love my job."

In all, he's written about 150 songs and has published 12 children's books, which are available in the schools' libraries. His 1992 picture book, "The Trouble With Ben," is about a bear who's always getting in trouble at school because he's expected to act just like the other students.

"The problem is, he's a bear, but nobody notices," Polisar said. "So is he going to go along with what everybody wants, or follow his instincts and follow his heart?" When the book was published, it was said to be a take on Polisar's dispute with county schools in 1990.

"I remember being baffled at the time. I mean, that's what everybody tells kids--don't put your finger up your nose." Polisar said with a chuckle.

But the brief dispute helped more than it hurt him. The Maryland Library Association gave him a special award for his work, and he landed a children's TV show on WJLA in Washington, D.C. Then--First Lady Barbara Bush even invited him to perform at the White House.

"I think every experience leads to something," Polisar said. "I received good recognition."

Dana Newman, manager of the county library in Severn, said she suspected that those who took issue with Polisar's work probably took it out of context. A member of Oak Hill Elementary's PTO, she brought Polisar to the school last year for a visit.

"It's hard to get an author that connects with kids through all grade levels," Newman said. "The connection he's made with kids is the best I've ever seen. I think it's almost magical the way he does it."