"This pioneering children's entertainer currently has a resume that would make many in his niche nervous. He's produced more than a dozen albums and nearly as many children's books, done live programs in most of the 50 states and D.C. (including at the White House and Kennedy Center), toured Europe several times and starred on an Emmy Award-winning children's show, "Field Trip." Generations of youngsters and even "Sesame Street's" Big Bird have sung Mr. Polisar's colorful tunes."
The Washington Times
Washington, DC
"Barry Louis Polisar has been creating and performing kids' music longer and more consistently than anybody else I am aware of--and he has been more successful doing that than just about everybody else in the field. Barry celebrates the way that kids are, not the idealized way that grown-ups want them to be. It's no wonder that kids have made Barry so popular for so long. He speaks to them like no other writer."
Eric Herman's Cool Tunes
For Kids Music Blog
Read a review of these older records
Barry comments on the old records
Download CDs or individual songs from iTunes here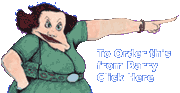 Barry's Original Archival Recordings
Almost all of the songs on Barry's original recordings have been re-recorded on newer CDs with a tuned guitar. These original albums are rougher recordings and some of the lyrics are edgier. Fans who grew up with these albums seem to prefer these originals; recent fans seem to prefer the more polished newer recordings. These original albums were recorded on a limited budget forty years ago and are available on CD and digital downloads from iTunes, Amazon, and CDBaby.com.
I Eat Kids and Other Songs for Rebellious Children
A refreshing breakthrough in children's music when released in 1975, Barry broke a lot of conventions in children's music with this first basement recording. Barry's voice was often off-key and his guitar was out-of-tune, but that didn't matter in this early recording--it was the subjects he sang about that counted and the rough sound just added to the style. The baby on the cover is Jennifer Hall and she recently emailed Barry to let him know that she is all grown-up now and has a band of her own in Los Angeles.
Read an insightful review of this recording.





My Brother Thinks He's a Banana and other Provocative Songs for Kids
Barry's second recording was released in 1977 and he joked that he only used three guitar chords on the whole album because he only knew four chords and didn't want to show off. Who knew it would sell so well and help launch Barry's career. One listener wrote, "Wicked joy...you are a Shel Silverstein with hair."
Read an insightful and unvarnished review of this recording.




Naughty Songs for Boys and Girls
This album was recorded and released in 1978 and was the first album where Barry overdubbed his vocals in a chorus of different voices. This original recording features the classic song "Don't Put Your Finger Up Your Nose." A new CD cover mimics the original album photo--except this time Barry's twins flank him and also have their mouths covered in shock.




Captured Live and in the Act
This was Barry's first "Live" album, recorded in 1978 and released the following year, capturing the energy of an early Polisar concert and an auditorium filled with giggling, laughing kids. As Paula Schlaffman, age nine said back then, "he's better than Beverly Sills."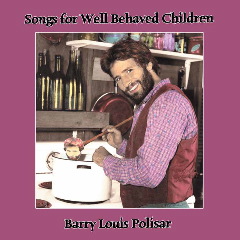 Songs for Well Behaved Children
Released in 1979, the title fooled a lot of people who thought they were buying a nice pleasant album of songs. One listener wrote, "This is demonic anarchy and I've added you to the top of my prayer list." But the songs were funny if you listened to the words and all done with a playful spirit; most people laughed along.




Stanley Stole My Shoelace and Rubbed it in His Armpit and Other Songs My Parents Won't Let Me Sing
Barry was well on his way to revolutionizing children's music with this 1981 recording as the cover pictured Barry imprisoned in a playpen with his mouth gagged as he is shown trying to hacksaw his way out. Read a review of this album here.




Off-Color Songs for Kids
Well, it wasn't really off-color. The joke was the cover color registry was off and the little bit of red didn't quite fill in the right spot...This 1982 album features the original recording of "Underwear" and that proved to be a big hit on the elementary school circuit.








Family Concert
When Barry Louis Polisar performs, he speaks to the kid in young and old alike. Youngsters giggle and shriek and adults are transported back to their own childhood. His word pictures are of children too smart to conform to arbitrary standards. Unlike Captured Live and in the Act which was recorded at a school show, this recording features seventeen of Barry's songs recorded in a live, family concert. Many of Barry's popular older selections are included in this 45 minute recording. Though the sound is not as full as Barry's newer more polished recordings, this "Live" recording makes for a good family "sampler" of Barry's earlier work. Read more.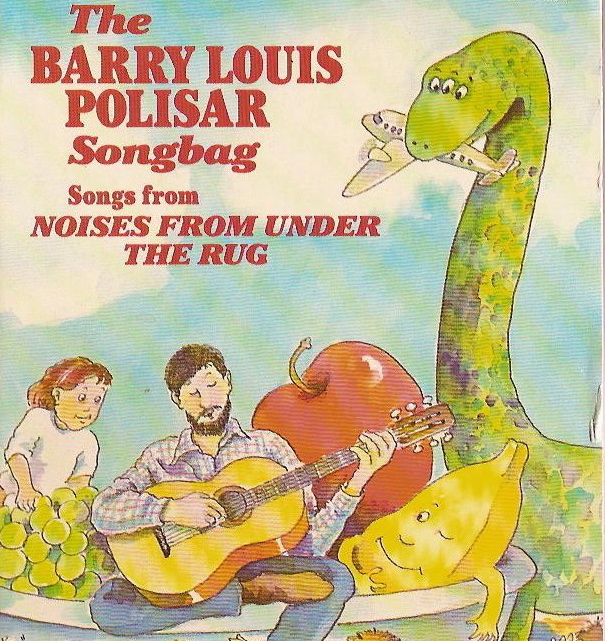 Barry's Songbag
Caedmon Recordings, a division of Harper Collins Publishers, issued this sampler recording of Barry's older songs in their 1986 collection. This album was released right after Barry's songbook was published and included a few songs from each of Barry's first half dozen albums. This is the only original recording that is no longer in print, but since it was a compilation album, all the songs are still available from iTunes and on Barry's other original recordings.