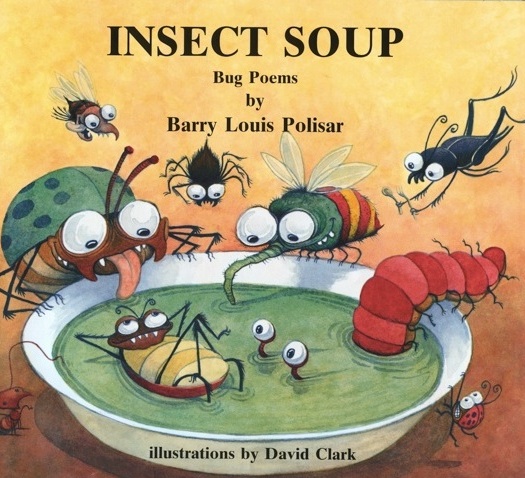 by Barry Louis Polisar
illustrated by David Clark
$14.95, 32 p. color illustrated.
ISBN# 0-938663-22-4
"Set in an extra-large bold font, the poems range from four lines to several stanzas and each one of them goes for the laugh. The final page supplies some information about the species featured in the verses."
– School Library Journal
"This book is a must have for the child--or adult--who has a healthy respect for bugs. You and your children will enjoy this innovative and talented author/songwriter."
– Book Lovers Quarterly
"This sequel to Polisar's poems about animals provide a book packed with funny bugs, from the praying mantis to dung beetles. Polisar's poems are lively and whimsical and David Clark's zany illustrations enhance their fun, providing a wealth of insect expressions and fun perspectives on bugs."
– Midwest Book Review
"Insect Soup eats, bites, floats, marches and parties from the first page to the last. Definitely a picture book that will delight children everywhere."
– Patricia Timbrook Reviews, Fountain Publishing Syndicate
A Parents' Guide Award-Winning Book!

The winner of the Parents' Guide Award for Outstanding Children's Books, this long awaited sequel to Barry's animal bestiary is a brand new collection of wonderfully witty poems about the funniest bugs on the planet. From the praying mantis to chiggers, kids will discover that the weird and wacky bugs are the most fun. Even the dung beetle, brilliantly illustrated in a tuxedo with formal serving tray, finally gets the recognition he deserves. An index of the featured creatures rounds out the fun with descriptions of each bug and noted entomological characteristics.

As First Coast Parent Magazine writes, "If you're not familiar with Barry Polisar's enchanting yet loony brand of children's poetry, try his books. There's nothing sugary about Polisar's writing. Zany and sophisticated, Polisar's poetry is a great way to show the child interested in poetry how much fun you can have writing verse. But it's also an education about the topic of his rhymes.He concludes the book with dictionary definitions of each insect. The illustrations from chiggers to cockroaches to ticks are excellent."
Listen

 

to

 

Barry

 Read These Poems