"Barry's Scrapbook offers something for the head, the hands, and the heart. Highly recommended."
Video Librarian
"A highly recommended resource for elementary schools."
School Arts Magazine
"A well crafted video expecially suited for public libraries."
Video Rating Guide for Libraries
"I'm delighted to tell you that your video has been named a Parents' Choice Honor Video. Your work is exceptional."
Parents' Choice Foundation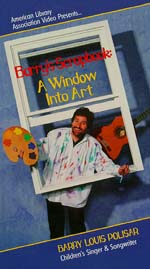 The American Library Association Presents
Barry's Scrapbook:
A Window Into Art
A Parents' Choice Award-Winning video, starring Barry Louis Polisar and featuring illustrator David Clark.
In this production of the American Library Association's Video Network, Barry is joined by a group of children at the library and features an art museum tour, several interviews with artists in their studios, and a visit to a school art classroom where art projects that kids can do at home are introduced. This video introduces artist David Clark, who has illustrated most of Barry's books and is Barry's fourth recording to win a Parents' Choice Honor Award.
This video is no longer available but free video clips can be seen here.